Underwater Fishing in New Zealand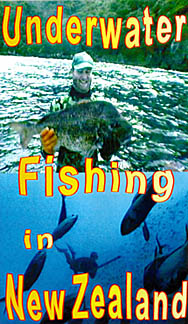 Follow Darren Shields, five times New Zealand national champion in this video, spearfishing and freediving the remote and rugged islands off the coast of New Zealand.
This half-hour video features the yellowtail kingfish, the largest of its variety found in the world. Watch as divers stalk these giants. See rare footage of the magnificent Kingfish in their natural environment, then descend to greater depths where the beautiful Golden Snapper dwell.
In all, Darren features 12 New Zealand game fish as he and fellow divers hunt the wild and beautiful coasts off New Zealand.
A must for anyone interested in spearfishing and underwater hunting techniques.
Available in NTSC format only.