RESULTS OF THE FIRST LA PAZ INTERNATIONAL BLUE WATER MEET, 1999
RESULTS OF THE SECONT LA PAZ INTERNATIONAL BLUE WATER MEET—OUR FIRST OFFICIAL IBSRC WORLD CUP, 2000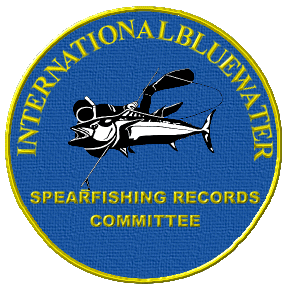 WORLD RECORD CERTIFICATION FOR BLUEWATER FISH

The mission of The International Bluewater Spearfishing Records Committee (IBSRC) is to promote ethical, safe and sporting spearfishing practices, to establish uniform regulations for the compilation of world-bluewater gamefish records, and to provide basic spearfishing guidelines for use in bluewater contests and any other bluewater spearfishing activities worldwide.

Up from the depths comes a huge steel-grey tube scattering bait fish in its wake. It's almost within range when you recognize it as the largest fish you've ever seen-possibly a world record. You shoot. As the fish rockets into the depths you wonder what you must do to preserve this catch as a world record.

Your first thought must be safety. The blue water is deep, dangerous and filled with powerful fish capable of drowning you in a line tangle, or maiming you in an attack. Your potential record might tow you into an offshore current or out to sea at night. Only when you satisfy this safety requirement should you consider your actions to preserve your record.

With the astounding increase in awareness of bluewater hunting as a separate and bona fide sport worldwide came the realization that while many countries have functioning organizations for their national records, there is no international organization dedicated to bluewater records.

An international group agreed to formulate an organization for the certification of world records-the IBSRC. Two main goals emerged. The first goal was to establish a committee to evaluate each country's historical records and combine them into a worldwide registry. Eligible fish are bluewater species such as tuna, marlin, wahoo and sailfish. To keep the committee international, these species must be available to divers on more than one continent, thus yellowtail (kingfish) made the list but white seabass (mulloway) did not.

The other goal was to establish and publicize a set of rules by which future records would be judged. These rules stress safety and provide specific criteria for performance. Basically, the rules call for the catch to be made independently and unassisted. Because bluewater hunting is inherently dangerous and safety problems such as shark attack, nightfall, fatigue, etc. might prevent one from meeting the record criteria, the late Bill Kroll recommended a special award for those meeting all the criteria for a record but for one safety-related infraction. Such near-record catches are recognized by a separate and prestigious class of Meritorious Awards. Meritorious Awards are also available for outstanding catches that while not world records are still noteworthy.

Since the Underwater Society of America (USOA) has a functioning non-profit organization in place with goals similar to the International Bluewater Spearfishing Records Committee (IBSRC), it was approached to sponsor the committee. With the enthusiastic support of the USOA, the committee soon grew to 33 governing members. In keeping with its goal as a truly international organization, members include recognized bluewater divers from such countries as Australia (6), New Zealand (2), Greece (2), South Africa (2) Brazil (1) England (1) Mexico (1) and France (2).